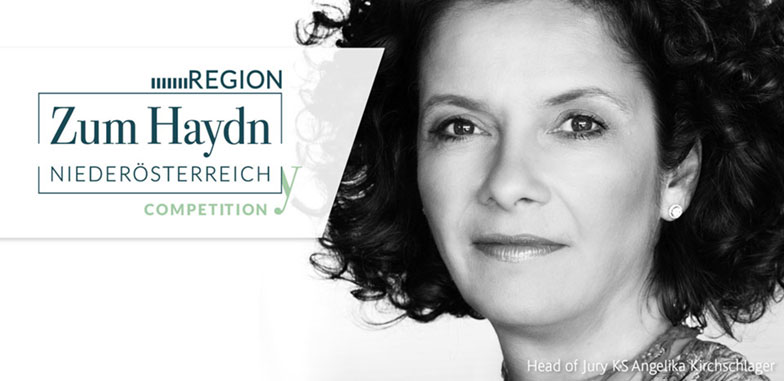 Competition 2022
4th International Haydn Competition for Classical Lied and Aria
May 27–29, 2022, ROHRAU (Lower Austria)
Ladies and Gentlemen! Dear Singers and Artists!
From May 27th to 29th, 2022 Haydnregion Niederösterreich invites young artists to join the International Haydn Competition for Classical Lied and Aria. For the fourth time already, singers are asked to present their talents to an international Jury in the birthplace of Joseph and Michael Haydn in Rohrau, Austria. The competition is aimed at young singers worldwide with particular talents and training in the areas of Lied and opera and focuses on the era of Wiener Klassik (Vienna Classical era). Further information on the competition as well as the the online application are available for download.
Good luck and see you soon in "Haydnregion Niederösterreich" – Angelika Kirchschlager (head of Jury) and the team of the Haydn Competition.


Winners 2022
1st Prize (Prize of the state of Lower Austria)
€ 8.000.-
NATALIIA SHUMSKA
2nd Prize (Prize of the Haydnregion Niederösterreich society)
€ 4.000.-
MARIIA ALKHOVIK
3rd Prize (Prize of the Rohrau Community)
€ 2.000.-
EKATERINA PROTSENKO
Prize for the Best Lied Interpretation
€ 1.500.-
BENJAMIN SATTLECKER
Prize for the Best Aria Interpretation
€ 1.500.-
NATALIE WEINBERG
Audience Prize offered by Alfred Dorfer
€ 2.000.-
SAID GOBECHIYA
Photos 2022
© Haydnregion NÖ
organized by
We thank our cooperation partners